Win more raving fans with the only helpdesk you'll ever need.
An easy to use customer service platform for all channels.
From your very first support rep to one hundred—and beyond!
Leverage the Power of Your CRM with FuseDesk
Your Contacts, Synced
Emails, Chats, and Case are automatically linked to the right CRM Contact and Case History is saved back to your CRM.
E-Commerce, Delivered
Empower your team with instant access to your contact's CRM orders, invoices, subscriptions, and payment data right in FuseDesk.
Your Team, Connected
Your CRM Users can log directly into FuseDesk and you can one-click invite your team to log in.
Connect To Your Favorite CRM
FuseDesk was built from the start to deeply integrate with your CRM.
We work beautifully with Infusionsoft by Keap, Keap, ActiveCampaign, and Ontraport.
Beyond a Mere Contact Box
FuseDesk connects to your CRM better than any other help desk.
Leverage your CRM Merge Fields in FuseDesk Templates
Merge you Custom CRM Contact Fields, too
Case History is saved directly to your CRM
Import email and note templates directly from your CRM
Orders, Subscriptions, Payments, and Invoices right in FuseDesk
One-Click invite your CRM Users
CRM Users can login directly using LoginSync
Create FuseDesk Cases from your CRM
And more…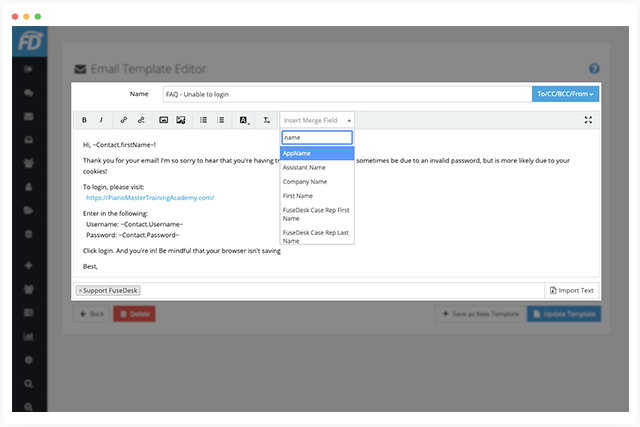 The first and only helpdesk you'll ever need.
Focus on your customers, not your software. Try FuseDesk absolutely free. No credit cards. No time limit. No obligations. You're going to love FuseDesk, the new way to helpdesk.